Cornerstone Performance Report for Credit Unions 2018 | 2019 Outlook
In Cornerstone's recent peer benchmark study, we surveyed 43 credit unions with assets of $400 million to $8 billion.
$1,595.00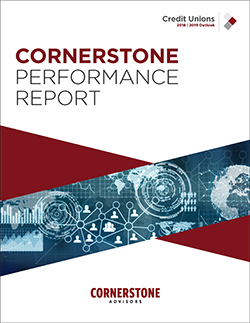 Cornerstone Advisors constantly strives to deliver the latest trends and data to credit unions to help them become high performing, future-ready organizations. The Cornerstone Performance Report provides credit union executives with:
Extensive

revenue, spending, staffing and performance benchmarks

from a survey of 43 credit unions with assets of $400 million to $8 billion
Detailed expense and revenue improvement opportunities

in IT, branch operations, digital banking, contact center, debit and credit cards, wealth management and more
A special 2019 Outlook

that explores credit unions' options for dealing with an economic downturn and increased regulatory pressures in the year ahead
The Cornerstone Performance ScorecardTM,

which details 200+ benchmarks across 15 key CU operations areas ranked by median, 25th and 75th percentile
View the Table of Contents here
$1,595.00 (Digital Version Only)
See metrics like this when you purchase the report:
Our list price is offered exclusively to credit union executives. Pricing starts at $4,500 for industry providers. Contact us to purchase.
Upon payment and verification, we will send the report to your provided email address within 24 business hours.
Prefer to be invoiced? Click here