Banking Payment Optimization including Credit and Debit Cards
Take control of your payments business to ensure increased revenue, reduced expenses, and minimized risk exposure while improving customer loyalty.
Maximizing Payments Performance
Our payment offerings assist banks and credit unions with improving performance using a data-driven, collaborative approach.
Payments Optimization
By assessing your data and leveraging our Cornerstone benchmarks, we build strategies to assist you with maximizing the profitability of your payments portfolio while managing expenses and resources. We conduct interviews to understand your goals and build flexible plans to help you develop and achieve your payment vision.
Credit Card Business Case
We assist banks and credit unions with determining the optimal approach for managing credit card portfolios. Whether you have an in-house portfolio and are looking to sell it or if you want to initiate an in-house card program, we can assist with building pro forma financials and helping you understand revenue opportunities and investment requirements.
Agent bank vs. issuing

Rewards Offerings

Product Design

Profitability

Marketing & Operations

Business and Commercial Card Opportunities
PIN Network Optimization
PIN Network interchange can be a confusing mix of options. Our payments leaders can assist you with navigating the complexities of PIN and optimizing your interchange income.
Spend and Interchange Growth

Profitability

Navigating Vendor Options

Card Processing RFPs
Finding the optimal card processing partner is a complex balance spanning payments, digital, and core. Our seasoned professionals can assist you with understanding your options, running RFPs, and leveraging a data-driven approach to find the right partner.
Debit and credit processing selections are complex

Our knowledge of the intersections between digital and payments can help you save time and achieve your goals faster

Our understanding of vendors can help you narrow down your options efficiently

Our proprietary scorecards enable your organization to incorporate numerous viewpoints seamlessly

Visa/Mastercard Branding
Visa and Mastercard offer issuers the opportunity to commit to a brand. By awarding Visa or Mastercard with your business, growth agreements provide incentives that can be used to promote card usage and interchange income. Cornerstone's deep understanding of these agreements assists banks and credit unions with maximizing their potential.
Maximize discounts on costly card processing fees

Leverage incentives to develop and implement marketing campaigns

Gain assistance from account representatives to build long-term strategies for success

Payments Snapshot
To gain a quick perspective on your debit and/or credit card performance, the payments snapshot helps banks and credit unions understand key performance metrics. The performance of your financial institution is compared to Cornerstone benchmarks to help you understand areas for improvement.
Gain a quick understanding of your card performance

Assess the performance of your interchange income against peers

Understand penetration, activation, usage, and interchange performance losses

Leverage insights to assist with planning projects to improve your payments portfolio

Merchant Services
Merchant services enable businesses to offer card processing services to their customers. Whether you outsource to a third party or offer services in-house, we can assist with improving performance and maximizing profitability
Assess overall portfolio performance, vendor relationships, and opportunities for improvement

Identify growth opportunities to improve profitability

Review key business functions such as sales and operations to identify opportunities
No area of financial services has seen more changes and new entrants than the payments arena. With payments revenue accounting for as much as 40% of an institution's non-interest income, banks and credit unions must take a proactive approach to protect and grow this revenue engine to its full potential. Cornerstone Advisors can be an indispensable partner in this strategy.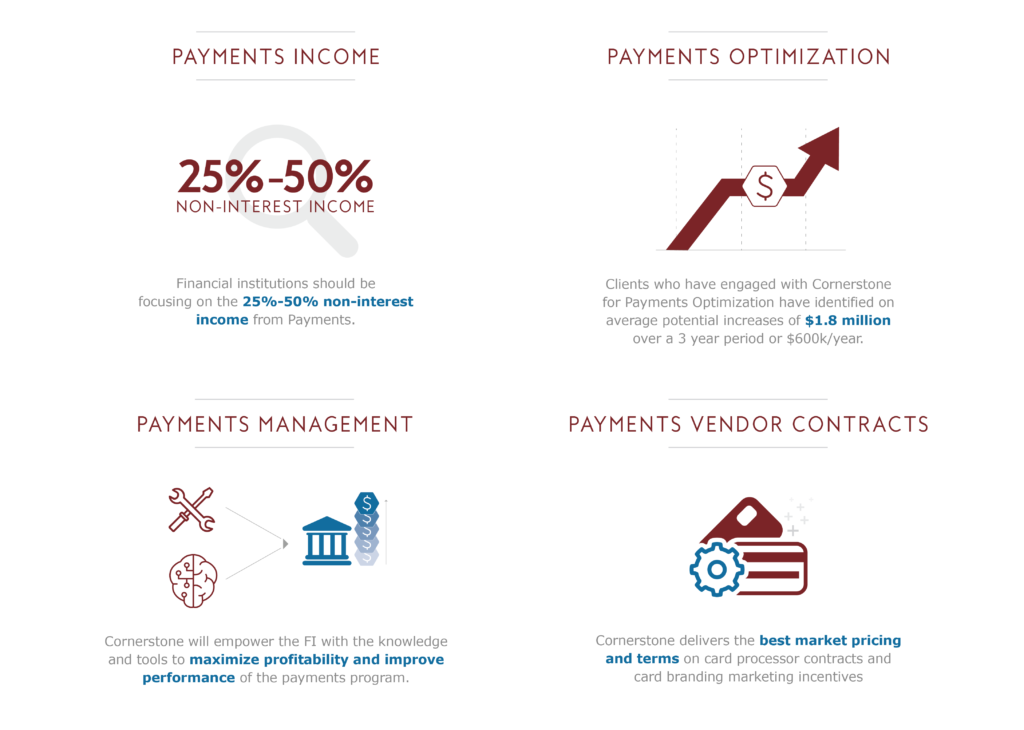 "We couldn't have arrived here without Cornerstone Advisors. We're very happy with the work and we got a much better result than we could have on our own. The knowledge and experience in the payments area were very valuable and made this project very smooth."
SVP, CIO SESLOC Federal Credit Union
Proprietary Tools
Payments Growth Initiative (PGI), Payments Scorecard, and Payments Stress Test tools help financial institutions drive measurable revenue growth and profit improvement in their payments businesses
Cornerstone Contract Vault™ ensures that our clients receive the best market pricing and terms on contracts and card branding and marketing incentives
Vendor Selection
Our vendor selection and card conversion services ensure that new strategies can be implemented with minimal customer impact
For clients re-entering the credit card business, Cornerstone can develop an objective business case and road map to grow this new product area via our extensive Credit Card ROI assessment
Contact us now to take control of your payments business to ensure increased revenue, reduced expenses and minimized risk exposure while improving customer loyalty.