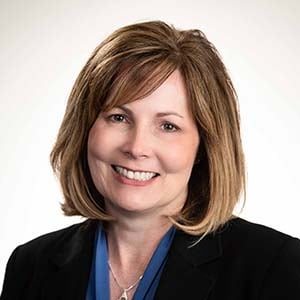 Margaret Glick
Director
Margaret Glick is a director in Cornerstone Advisors' Technology Solutions group, where she applies her 30-plus years of banking experience primarily to merger and technology transformation projects.
As a former chief operations officer, Margaret has expertise in many banking areas, including deposit and loan operational policy development and risk assessment, call center and IT management, information security, business continuity, vendor evaluation and management, audit and exam remediation, and project and change management. She has led transformations of systems including core, debit card, credit card, online banking, mobile banking, treasury solutions, loan origination, BSA/AML, and fraud.
Over the course of her career, she has held senior positions, including an information security officer, business continuity officer, and Bank Secrecy Act officer.
Margaret is a contributing author for GonzoBanker, Cornerstone's blog.
Margaret graduated from the University of Illinois, Champaign, Ill., with a degree in business administration and attended the Owen Graduate School of Management at Vanderbilt University, Nashville, Tenn. She is a former Certified Information Systems Security Professional (CISSP) and Certified Community Bank Technology and BSA Officer.
Get in touch with Margaret