What's Going On
In Banking
2022
Rebounding From the Revenue Recession
Are you keeping up with your competition and confident you can capture more market share? This comprehensive guide, authored by noted fintech expert Ron Shevlin, explores the latest banking and fintech trends and provides insight into the outlooks, concerns, and priorities of 300 community-based financial institutions surveyed by Cornerstone Advisors.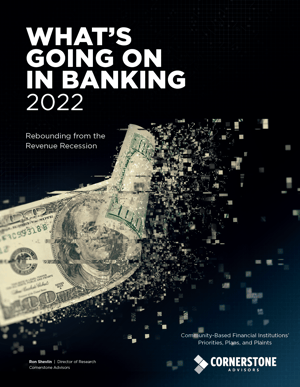 Learn about your peers' strategic and technology plans for the year ahead in this widely read annual research report.
Key study highlights include:
The ability to attract qualified talent in 2022 is the top concern for both banks and credit unions.
While three in 10 banks and a quarter of credit unions plan to implement real-time payments in 2022, 37% of banks and 42% of credit unions haven't determined their RTP strategy.
Roughly one in 10 surveyed financial institutions plans to launch cryptocurrency investing/trading services in 2022. Currently, just 1% of banks and no credit unions offer the service.
Nearly half of bank and credit union executives see fintech and big tech companies as significant competitive threats in the year ahead.
More than half of banks and nearly two-thirds of credit unions see an improved environment for M&A deals in 2022 over 2021.