Competitive and economic pressures have created a new set of strategic, revenue and marketing challenges.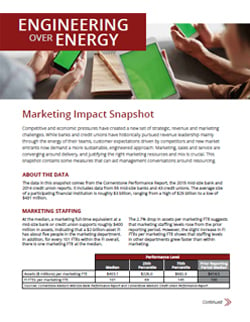 While banks and credit unions have historically pursued revenue leadership mainly through the energy of their teams, customer expectations driven by competitors and new market entrants now demand a more sustainable, engineered approach.
Marketing, sales and service are converging around delivery, and justifying the right marketing resources and mix is crucial.
Learn what financial institutions are spending on marketing initiatives and how they are staffing their efforts.