What are the priorities, fintech plans and future forecasts of mid-size financial institutions? Find out in What's Going On In Banking 2021: Rebounding From the Pandemic.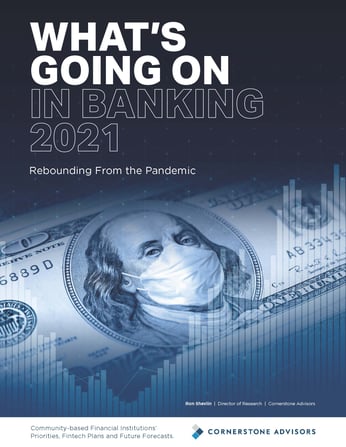 For this popular annual study, Cornerstone Advisors surveyed 260 community-based bank and credit union executives and learned that 40% of them are somewhat more optimistic about the year ahead than they were last year. Highlights of the study include:
Top concerns for 2021

Interest in fintech, Google and Amazon partnerships

Digital transformation progress and success

M&A Outlook

Lending, deposit and payments priorities
You'll learn about financial institutions' tech spending and priorities for emerging technologies and key systems and applications – and more.
Plus, report author Ron Shevlin shares Top Trends for 2021 to illustrate why this year will be the year of value chain disruption in banking.
This valuable resource is free. Get it today!