Mergers and acquisitions in the mid-size banking market are fueling a renewed quest to achieve efficiency ratios below the magic 50% mark.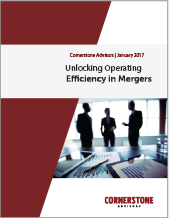 More than 1,300 banks have evaporated in just the last five years as many community banks are proving to be "too small to succeed."
However, the mid-size bank market—banks with assets between $1 billion and $50 billion—is growing strongly as smaller financial institutions are acquired by mid-size institutions and new, emerging regionals. The $1–$50 billion bank segment now totals roughly 650 banks with more than $3 trillion in assets and 27,000 branches.