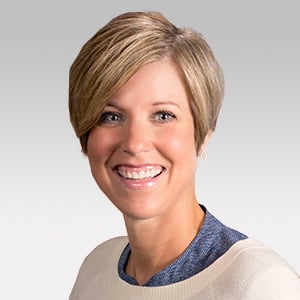 Betsy Whisler
Director
Betsy Whisler brings to Cornerstone Advisors a rich background in digital strategy, product development and strategic planning at financial institutions. In her role as director in Cornerstone's Delivery Channels practice, Betsy is focused on developing trusted partnerships with clients as she assists them in achieving their strategic goals. She adds value to client initiatives spanning delivery channel planning, strategy, and customer experience improvement, and she is active in the firm's delivery systems selection and implementation engagements.
Prior to joining Cornerstone, Betsy was with Thrivent Federal Credit Union in Appleton, Wis., where she played an instrumental role in transitioning the organization from a bank to a credit union – including all of the bank system conversions that went along with that undertaking. During her 13+ years at Thrivent, she held senior positions in deposit operations, operations, product management, and consumer banking.
Betsy has a Bachelor of Arts Degree in International Studies from the University of Wisconsin, Oshkosh, Wis.
Get in touch with Betsy