The data processing system market is in a state of flux.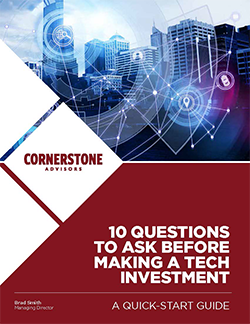 But despite the reality of product sunsetting, technology obsolescence and deposit displacement, fewer than 20% of recently surveyed banks and credit unions—many of which are operating with legacy systems—said investing in new systems was a top priority in the year ahead.
Future-ready financial institutions understand that success in this ever-changing environment calls for a new level of due diligence. It calls for heightened vendor management. It calls for solid adoption of new technology that supports business strategy.
The 10 Critical Questions in this Quick Start Guide will help FIs make educated, well-funded and profitable investments that set the foundation for a competitive future.